Arsenal's Gabriel Paulista Given One-Game Suspension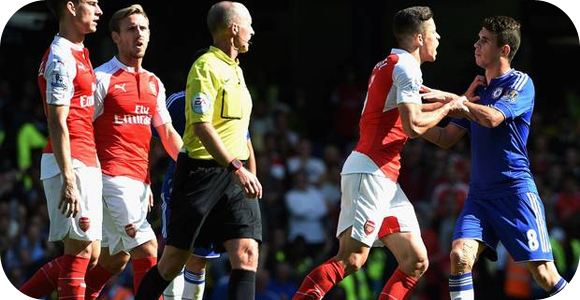 During the match between Aresnal and Chelsea, defender Gabriel Paulista was given a red card and dismissed due to improper conduct. He has now been banned for one match and fined £10,000 as punishment, but the red card has since been rescinded. An independent regulatory commission ruled on Friday that Gabriel was guilty of failing to leave the pitch promptly after being sent off by Mike Dean for seemingly kicking out at the Chelsea striker Diego Costa.
This, however, prompted the Gunners to react and appeal this decision earlier in the week, where they were successful. They fought against Dean's decision on the basis that Paulista had not actually made any contact with Costa, where they also provided video evidence backing up their claim, which also showed that Costa had provoked the defender. Jose Mourinho, Chealsea's manager, was not happy about the decision to overturn the dismissal, as it was almost the same as allowing retaliation.
Paulista had been originally set to be banned from three matches, but with the overturned decision, he was only sentenced to sit out of one match. Now, Arsenal has to prepare for their game against Leicester City without their defender during Saturday's Premier League match. Arsène Wenger seemed to be at ease when the outcome came on Friday, "I will accept their judgment. If there is no punishment, we are a bit lucky. If there is a punishment, I have to take it."
These kinds of disputes always occur during heated games, especially when it is Arsenal and Chelsea, as they have been long-time rivals. We would not expect the players to go down without a fight, literally.