Danny Welbeck Knee Surgery And Arsenal Transfer Window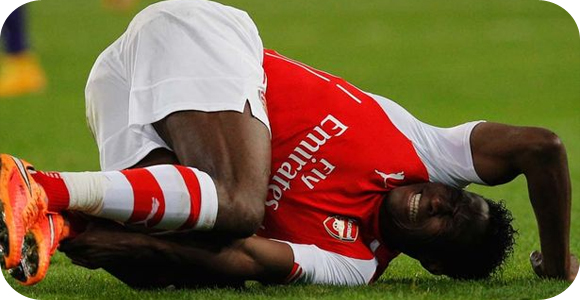 A lot of Arsenal fans are very annoyed and displeased with how their team has handled several situations that all revolve around their transfer window and Danny Welbeck. It was just confirmed by the Gunners staff that Welbeck has just gotten knee surgery for an injury that he sustained, at least what many believed, earlier this week. This will leave Welbeck off of the field for at least a few months, so the club may not have such a white Christmas after all.
What has fans upset is how the club handled this mess. The team reluctantly admitted that they had known about the injury last week, when the transfer window was still wide open. The team knowingly had an outfielder injured and in need of surgery that would obviously take him months to recover from, and decided to not act and sign an outfield player to their squad.
The club had only one transfer during the summer, goalkeeper Petr Cech who was a great addition to the team, but Wenger seemed to think that clubs shouldn't have to pay exorbitant amounts of money just to get the "best" players, which is what he stated with the Manchester United £36 million signing of Anthony Martial. It is well known, for decades, that better players fetch a higher a price, everyone knows this and someone as experienced as Arsene Wenger knows this.
A statement from the Arsenal Supporter's Trust sums up the fans feelings quite nicely, "Arsenal are in a very strong financial position and it is of course disappointing that the transfer window has closed with just the signing of Petr Cech. Arsenal have built a strong squad and just one or two more good additions would have strengthened the chances of winning a first title in 11 years. No one wants Arsenal to buy players just for the sake of it, but we do want to see the money being invested to make the club stronger."
The Trust doesn't speak for all fans, but most will agree that Wenger should have acquired a few more players to make the team strong, especially if Arsenal had the funds to spare. This is probably why the team is losing games they should obviously win with the talent they currently have, they just need that extra push and a good player could have done that.