Factors Arsenal Must Consider During International Break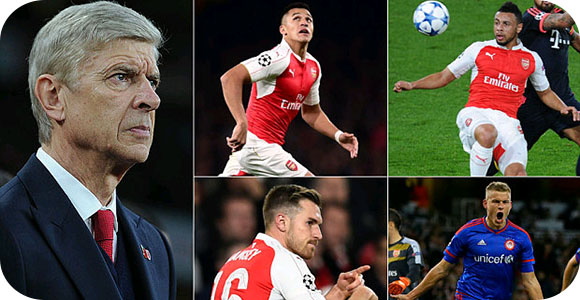 As Arsenal moves into their international break, Coach Arsene Wenger is faced with several different key factors that must be considered if the team wishes to continue performing well and winning matches. They are currently facing problems with injured players, and trying to get them back onto the field, as well as looking to the future and the Champions League knockouts.
Injured Players Back To Health
The Gunners are facing a problem that they have not had to deal with in many years, having a lot of injured players on the bench. They currently have seven first team players injured, including Hector Bellerin, Theo Walcott, Aaron Ramsey, Alex Oxlade-Chamberlain, Jack Wilshere, Danny Welbeck and Tomas Rosicky. With only two players expected back after the break, Bellerin and Oxlade-Chamberlain, they will have to regroup and fast.
"It is very important to get players back. Over a short period you can replace a couple of players but with two games a week, and the intensity will not lessen, you need a lot of players who can replace each other and come and give energy."
Upcoming January Sales
Wenger will be faced with the need to address several areas on the squad, even if they get back their injured players. For starters, he would need to sign another good holding player, seeing as how if Francis Coquelin were to get injured, he would have to use inferior players like Mikel Arteta or Mathieu Flamini. He also needs to sign a striker, as they are need of a good backup even when Welbeck gets healthy.
Alexis Sanchez Down Time
Sanchez seemed to be out of energy in the game against Tottenham, which has led Wenger to consider giving him some time off. He has played in South American tournaments over the past two summers, and has played 68 matches for Arsenal since he was signed in August 2014. As Sanchez will be playing in World Cup qualifiers during the break, so he will be exhausted. Wenger will have to give him a break, or it could lead to injury and possibly miss out on December/January matches.
Qualifying For Champions League
The only way for them to make it to the Champion League for the 17th consecutive time would be:
Win both their matches
Two-goal or more score different against Olympiakos OR
A 4-3, 5-4, 6-5, etc. scoreline and hope Olympiakos loses against Bayern Munich
Arsenal has a long road ahead of them, and hopefully this international break will give them enough time to get prepared for upcoming matches.