Trouble Hits Arsenal As Injuries Plague Team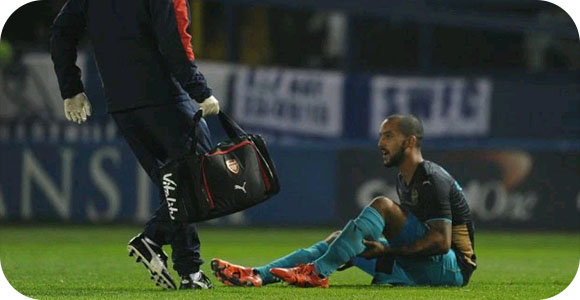 The Arsenal FC may have big problems when they go out to face Tottenham on Sunday, as their injury list continues to get bigger and bigger. The only other team that has more injuries is Newcastle. Coach Arsene Wenger is quite concerned that having all of these players on the sidelines recovering will cause problems for the team,
"I'm very concerned because we are only in November and we have so many players out. We go into the Christmas period and I am concerned because we have too many players out."
There are a total of eight first team players that are on the injury list, and fans are hoping no more players are added to it any time soon. Having so many of your starters out means having to replace them and try to fill the holes left behind, which could hurt their chances as they are in second place in the Barclays Premier League. Having 8 wins, 2 losses, and 1 tied game so far, this could drastically change if more than half of their first team players are injured.
| | | |
| --- | --- | --- |
| Player | Injury | Expected Recovery |
| Laurent Koscielny | Hip | Any day |
| Hector Ballerin | Groin Strain | 2 Weeks |
| Alex Oxlade-Chamberlain | Hamstring | 2 Weeks |
| Aaron Ramsey | Hamstring | 2 Weeks |
| Tomas Rosicky | Knee | 1 Month |
| Theo Walcott | Calf Strain | 2 Months |
| Danny Welbeck | Knee | 2 Months |
| Jack Wilshere | Ankle | 2 Months |
The good news is that David Ospina and Mikel Arteta have gone back to participating in full training, so they may be healthy enough to play on Sunday, if needed. The only player from the injury list that has any chances of being able to play against Tottenham is Koscielny, but according to his coaches, they are 80% sure he will play and it will all depend on the test on Saturday.
Hopefully the recovery rates improve over these next few weeks, with at least three more players being healthy enough to return to the pitch. Arsenal will have a tough few games until they get back some of these players.